Wat levert vastgoed beheer op?
door admin
28 januari 2019
0
Publicatiedatum: 28 januari 2019
Leestijd: circa 11 minuten
De meeste particuliere verhuurders verhuren hun eigen pand via een eigen administratie, in plaats van een full-service beheerder in te schakelen. Het verschilt nogal, maar een groot deel van de particuliere verhuurders maakt verder geen gebruik van een beheersysteem. Hier is op zich niets mis mee, maar alleen is de kans groot dat er onnodige tijd verloren gaat hieraan. En een ieder weet, aan vrije tijd kun je geen prijs hangen. Via het beheer van Pahuhu.nl wordt er een betaalbaar alternatief geboden, waar men zelf kan kiezen wat er in eigen beheer wordt uitgevoerd en wat wordt uitbesteed.
Vastgoedbeheer is geen hogere wiskunde op zich, de samenkomst van alle kleine taken die erbij komen kijken kunnen er wel voor zorgen of er kostbare tijd verloren gaat en of een woning wel datgene oplevert wat men ermee beoogd heeft.
Wanneer u een woning koopt met de bedoeling om deze te gaan verhuren, is het dus goed om eens te bepalen wat uw eigen tijd u waard is. Wanneer u werkzaam bent in loondienst of als ondernemer, kunt u een goede inschatting maken van uw uurloon. Is dit niet het geval, kunt u hier een ruwe schatting maken. Vervolgens kunt u bekijken hoeveel tijd u aan bepaalde werkzaamheden kwijt bent, hiermee kunt u bepalen of het (financieel) verantwoord voor u is om uit te besteden.
Wat is ongeveer het gemiddelde wat aan tijd wordt besteed voor de beheer werkzaamheden?
Gemiddeld geeft men aan dat er ongeveer 4 uur per maand besteed word voor de beheer werkzaamheden per verhuur-pand. Een simpele rekensom maakt dat men circa 48 uur per jaar bezig is met wekelijkse/maandelijkse werkzaamheden. Hetzelfde aantal uren is men kwijt voor het vinden van een huurder, het binnenhalen van de huur, het opstellen en laten tekenen van de huurovereenkomst en overige werkzaamheden. Al met al komt men al gauw op ruwweg 96 uur per jaar wat men aan alle hoofd- en randzaken besteedt.
Real Property Management created a calculator that asked owners this same question on their time spent. The average is 47.5 hours for leasing and 46.6 hours for management, which is pretty close to the industry's rule of thumb per rental.
What's the cost of property management?
For self management, it is obviously your time of two weeks per year. Top softwares will save you about 50 percent of this time. And the best will save you about 70 percent, if you are willing to use more automation. It makes the monthly cost of top softwares negligible when you compare it to the time you invest in management.
Property managers have streamlined processes and software to reduce the amount of time required to manage. But they charge you a fee for using their services and operations. There are three types of fees charged by property managers:
#1 Leasing fee
This one-time fee includes finding a qualified tenant and moving in this tenant. It is also the tenant placement or tenant turnover fee. The fee ranges from 50 to 100 percent of one month's rent. It involves advertising your rental, showing it to prospective tenants, providing an application, screening tenants, preparing the lease, and moving in the tenant.
#2 Management fee
This monthly fee includes the day-to-day operations, from collecting rent to maintenance requests. The fee ranges from 7 percent to 10 percent of monthly rent. You can get this fee down to 3 percent if you have a large apartment complex with hundreds of units.
#3 Additional fees
There are other fees included by some managers, which can be a surprise if not discussed up front with the owner. While we have seen many types of additional fees, the most common are:
Late fees: Taking a percentage of the late fee
Maintenance fees: Charging for coordination of certain maintenance and repair costs
Lease renewal fees: Requiring compensation for preparing the renewal contracts with existing tenants
Eviction fees: Charging to be the liaison, or even the representative, during the eviction process
The tenants may also see additional fees from property managers, such as returned check fees.
How effective is landlord and property management software?
It depends on the software. But our survey from top owners and managers on smart technology provide the following results. There are some steps in the management process, including inspections and evictions, that are not factored into the hours on either side.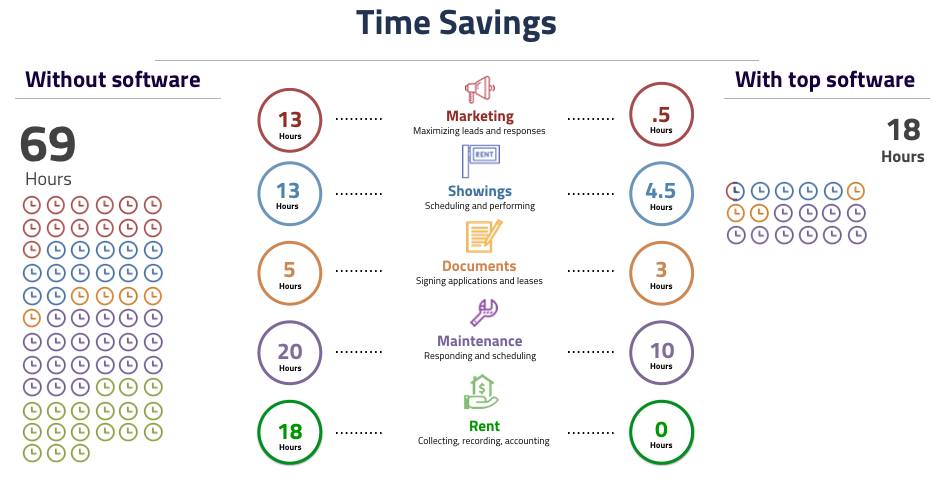 These owners and managers have some very strict processes for each step in the process. They have streamlined following best practices.
Here is a high level overview from Hemlane on how time is saved in 5 property management steps and financial freedom is achieved with 1 great team.
#1 Marketing: Advertise on top ranked websites to the most qualified tenants
Efficiency explained: Post vacancy online, using the highest ranked websites, without any rent signs outside the property
Genius factor: Tracks interested tenants automatically without any risk of break-ins, as rent signs outside a door can create incentives for break-ins
#2 Rental Showings: Do not offer open houses or private showings
Efficiency explained: Pre-qualify tenants and consolidate them into a couple of showings
Genius factor: Saves times (one cancellation is no longer a major inconvenience), allows you to only focus on qualified applicants, and prevents Fair Housing violations through an objective process
#3 Documents: Automatically send documents and reminders
Efficiency explained: Send rental application, screening, and lease from a system that will enter the information for you
Genius factor: Administration required to follow up with applicants, from taking down the social security number to collecting fees, is 100 percent automated, and encrypted in a secure system
#4 Maintenance: Have a system troubleshoot tenant inquiries and send service requests
Efficiency explained: Follow proven workflow to reduce service call visits and provide all contact information and next steps to service professionals without effort
Genius factor: Common maintenance requests are often resolved without a visit and better communication with service professionals gets the job done faster
#5 Rent: Have rent paid online with automatic late fees to ensure the lease is properly followed
Efficiency explained: Set up rent once and forget about it until the lease renewal
Genius factor: Tenants will make excuses, such as a lost check in the mail, but a transparent process with late fees avoids miscommunications and data entry
#6 Team Management: Delegate tasks to the appropriate person
Efficiency explained: Investment properties are not necessarily in your backyard but adding the right professionals (licensed agents and managers) for certain tasks can free up your time to work on things you do best
Genius factor: Tasks which need to get done will go to the person who can get them done in the best possible way
The net win is roughly 70% time savings due to a systematic process and appropriate delegation of tasks to the right people.
What else can I do to save money?
Software is a must-have if you want to make management feasible. Otherwise, you spend too much time on mundane tasks, which correlates to making less than minimum wage. The numbers don't look so good on paper. There are two other ways to save additional money on property management:
#1 Hire a Leasing Agent
If you do not want to pay for full service management, then you may want to get a licensed agent to support you in rental showings and inspections.
#2 Find a Maintenance Coordinator
You can get someone experienced to take your calls and initiate your service professionals. It will give you a peace of mind without having to pick up emergency calls at 2AM.
Keep in mind that you still need to manage your rentals, but you can use a systematic and automated approach from your computer.
Why do so many owners select self management?
At Hemlane, we have a huge respect for full service managers. Property managers are the "jack of all trades" in real estate, where they have to be experts across multiple functions:
Sales – selling tenants on a new home
Marketing – advertising the rental
Tenant Selection – selecting a qualified tenant
Accounting – keeping track of the books
Legal – understanding State and local laws
Maintenance – troubleshooting and fixing problems
So why do the majority of owners self manage? Here are the major reasons:
#1 Want transparency
A rental property is typically a large investment for anyone. When an owner decides to rent, their equity and cash is tied up in the property. And often, it is the owner's retirement dollars. When your future depends on the appreciation (rise in value) and cash flow (monthly rent), owners want to know everything going on with their rentals. They want their asset maintained and a steady cash flow.
Successful full service property managers work with hundreds of properties and owners. A property manager's time is valuable, which makes it difficult to follow up with every owner on a regular basis. When owners do not receive a level of transparency and frequent updates, they revert back to self management.
#2 To keep control
When someone wants a truly passive investment strategy, then they will invest all of their savings into the stock market, bonds, and other hands off opportunities. By purchasing rental properties (or becoming an accidental landlord by purchasing a new rental), the owner is clearly indicating that they do not want to be entirely passive. Everyone knows that you still need to talk to your property manager and make some decisions with the rental. With that said, most people who decide to own rental properties are making an underlying decision to invest in something that is not passive. They want to be more hands on, and when it comes to management, they are already mentally prepared for this.
#3 Avoid portfolio conflicts
A successful property manager will have hundreds of rentals. When your rental property is vacant, so are many other rental properties managed by the full service firm. As a tenant considers your rental, they may ask for alternatives to fit their style or budget. Many managers will provide a list of their other vacancies, even if the second rental is not owned by the same person. This behavior is not aligned with the interests of the owner for the first property.
#4 The fee structure
Taking a percentage of monthly rent is a horrible business structure. This model needs to change and we are huge fans of the property managers who offer a flat rate per door. Here's why.
A rental property in a lower income neighborhood may be a lot more work. To name a few reasons: the turnover is higher, the property may be destroyed more frequently, and the risk of collecting rent is higher. A rental property in a higher income neighborhood is usually a lot less work. The majority of tenants have solid credit scores and pay rent online.
When a property in a high income neighborhood is less work, why are you paying more in management fees? Here is a quick example:
High income neighborhood ($4,000 per month in rent): 10% is $400 per month in management fees
Low income neighborhood ($550 per month in rent): 10% is $55 per month in management fees
A $400 fee for easier management compared to a $55 fee for more difficult management does not make sense.
What's the answer for the industry?
For owners, we know that the majority do not want full service property management. But, they want some help! While the exact solution varies based on preferences, software is a good starting point. Technology will automate the administrative tasks and provide checks and balances. The top landlord and property management softwares are built with best practices already in place. If owners are looking for more affordable property management, here are 5 steps to affordable property management.
How can agents and managers help owners? There are many tasks where software fails. Local knowledge and presence to build relationships is where real estate agents and property managers can add the most value. As this industry adopts technology, the smartest property managers will realize this and change their models to compete at a whole new level